BEST! Business Excellence through Sustainable Trust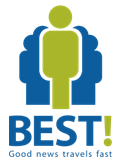 We are living through a crisis of trust in organizations and many of today's news channels are stuck on one channel . . . what is wrong in corporate America. BEST! -
a collaborative media-based program showcasing best practices in building and maintaining trust
- will draw public attention to what is right -- with the goal of restoring trust in business.
BEST! is a "by invitation" program that leverages a voluntary fraternity of well-respected media organizations to collaboratively disseminate articles about corporate leadership, innovation and success to a guaranteed audience. We want to showcase role models for other companies to emulate.
BEST! is the only program of its kind guaranteeing media coverage to an audience of millions of visitors for companies that meet our standards for responsible business.
Need more information?
This program is being coordinated and administered by Trust Across America.
For more information, please contact Barbara Kimmel, Executive Director:
barbara@trustacrossamerica.com
www.trustacrossamerica.com
Office: (908) 879-6625
BEST! Business Excellence through Sustainable Trust