TRUSTGiving2014
JOIN US IN CELEBRATING TRUSTGiving 2014
November 17-23, 2014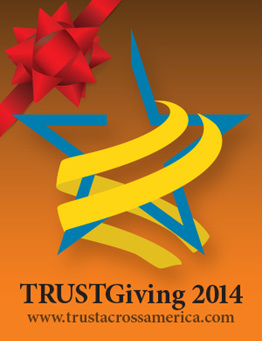 In celebration of the 2nd anniversary of our Alliance of Trustworthy Business Experts, and as our first 2-year Campaign for Trust draws to a close, a weeklong international celebration of trust has been planned called TRUSTGiving 2014 (#TrustGiving2014) to run from November 17-23.
Did you know that Thanksgiving, through a UN declaration, extends beyond the US to a global harvest festival celebrating communal harmony, peace and brotherhood?
We hope TRUSTGiving 2014 will be the first in an annual, coordinated social awareness campaign to bring focus to the importance of trust in all relationships.
We will have a special page and banner on our website dedicated to the campaign which will have three components:
A week long series of guest blogs by our Alliance members
A week long series of tweets
A weeklong giveaway of books and other gifts from Trust Across America-Trust Around the World.